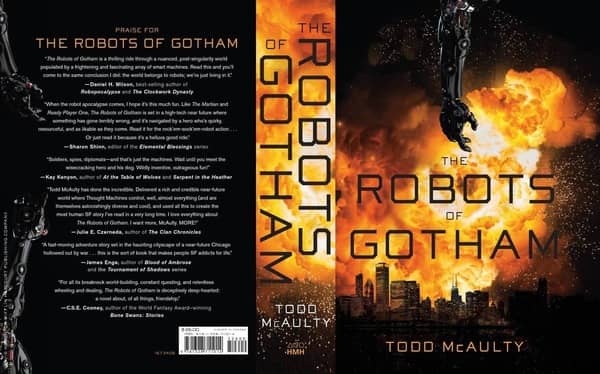 My first novel, The Robots of Gotham, was published in hardcover on June 19, 2018 by Houghton Mifflin Harcourt. It was edited by John Joseph Adams, and published through his imprint, John Joseph Adams Books.
Tap the image above to see the cover in all its fold out high-resolution glory. (Woo-wee! That's a lot of pixels.)
Many folks have said some extremely kind things about my little book. I've gathered a few in the vain hope that it will impress you.
---
SF fans rejoice! Your summer beach reading has arrived. Todd McAulty's debut novel is a massive, fast-paced, action-packed epic … with robots! […] Even more than the fascinating and fully realized world it presents, what makes The Robots of Gotham such a great ride is its sheer narrative drive. Every page has the fierce readability of early Neal Stephenson, which is as high praise as it gets.
—Toronto Star
Extrapolates a scary AI-overrun 2083 that's only a few steps removed from today's reality. This massive and impressive novel […] maintains breathless momentum throughout. Readers will hope for more tales of this sinister future and eagerly pick up on hints that Barry and his companions may continue their exploits.
—Publishers Weekly (starred review)
This debut novel beautifully combines a post-apocalyptic man-versus-machine conflict and a medical thriller. The world is immersive and detailed, the characters have depth, the writing is assured, the plotting intelligent, and the pacing about perfect. McAulty's take on how AI might evolve gives the premise a unique twist. The story is action-packed, starting with a boom (literally) and driving you along from one crisis to the next. The action rarely lets up, yet it never becomes tiresome. […] This is thrilling, epic SF.
—Booklist (starred review)
The Robots of Gotham is a thrilling ride through a nuanced, post-singularity world populated by a frightening and fascinating array of smart machines. Read this and you'll come to the same conclusion I did: The world belongs to robots, we're just living in it.
—Daniel H. Wilson, bestselling author of Robopocalypse and The Clockwork Dynasty
Todd McAulty has done the incredible. Delivered a rich and credible near-future world, where Thought Machines control, well, almost everything (and are themselves astonishingly diverse and cool), and used all this to create the most human SF story I've read in a very long time. I love everything about The Robots of Gotham. I want more, McAulty. MORE!
—Julie E. Czerneda, author of The Clan Chronicles
If Johnny 5 had a baby with the Terminator, the result would be The Robots of Gotham… For all its breakneck world-building, constant questing, and relentless wheeling and dealing, The Robots of Gotham is deceptively deep-hearted: a novel about, of all things, friendship.
—C.S.E. Cooney, author of World Fantasy Award-winning Bone Swans: Stories
Soldiers, spies, diplomats—and that's just the machines. Wait until you meet the wise-cracking hero and his dog. Wildly inventive, outrageous fun!
—Kay Kenyon, author of At the Table of Wolves and Serpent in the Heather
A fast-moving adventure story set in the haunting cityscape of a near-future Chicago hollowed out by war… Handle with care: this is the sort of book that makes people sf-addicts for life.
—James Enge, author of Blood of Ambrose and A Tournament of Shadows
Get complete details at John Joseph Adams Books.